How to Have an Unplugged or Technology Free Wedding Ceremony?
Here's how to keep your wedding ceremony without any disturbing cameras or telephones.

There was a time when only Uncle Harry and his camera wandered into frame at your wedding ceremony – now even Grandma's whipping out her phone for your walk down the aisle! Some couples are happy for their guests to snap and share as they please, but what if the paparazzi experience isn't your style?
You wouldn't believe how many gorgeous wedding photos we see which are ruined by an aunty with an iPad or an aisle lined with guests who have phones covering their faces!
WATCH NOW
Farryn & Jake's Real Wedding | Cabo San Lucas, Mexico
Check this unplugged wedding wording ideas to suit every type of celebration
1. Include your Unplugged Wedding in your Invites or on your Wedding Website
Early notice is always a good idea! Give your guests advance warning and politely point out that you'd love if all guests could go phone, camera and iPad free for the ceremony or the reception.
2. Ask your Officiant to Make an Announcement
Perhaps the most effective way to nip technology use in the bud, your guests are more likely to listen to an authority figure like your celebrate than to your subtle requests!
3. Put it in your Wedding Program
Whether you have or haven't listed your tech preferences on your invite, it's no harm to include it again in your wedding program or mass booklet. A line explaining that you want your guests to relax and enjoy the ceremony phone-free will work perfectly.
Signage or chalkboards are definitely the prettiest way to encourage your guests to stop using their phones or iPads, particularly if you want the rule to apply throughout your day.
To avoid misunderstanding, be clear with your guests about what you mean by no technology. Do you want no photos at all, no photos during the ceremony, or no social media posts on the day or no posts at all?
6. Share your Professional Photos with Everyone Afterwards
Most of your guests mean no harm whatsoever taking out their phones and cameras, they simply want a memento. Assuring everyone they'll get a few snaps will make putting down their technology so much easier. Make sure to chat to your photographer about this beforehand and ask for lots of guests shots.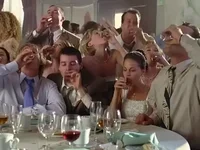 What Can I Do If Our Guests Ignore the "Unplugged Wedding Ceremony"?
If you asked guests to stay off their phones during your ceremony but spot a few when you get the professional photos back from your photographer, there isn't much you can do guest-wise. Work with your photographer to either edit the images to remove the phones, identify alternative angles where they don't show up, or artfully crop the images so the focus is on the two of you and not that iPad in the second row.
*Wszelkie prawa zastrzeżone. Zabrania się zmieniać, kopiować i w jakikolwiek sposób wykorzystywać utwór bez zgody autora © Daniel Tarka Fotografia Ślubna Wrocław